Amazing auto tech that's coming — and already here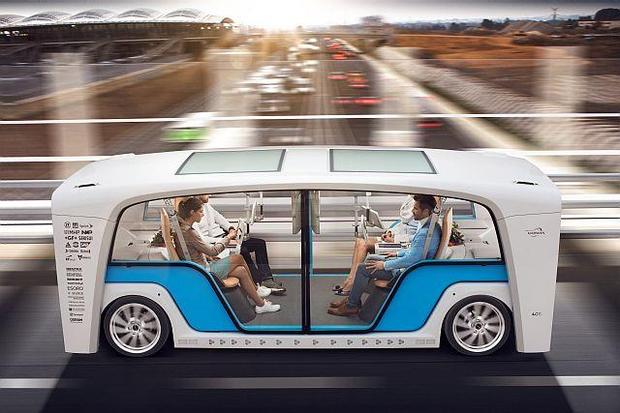 Imagine that while you're driving, new technology could read your brain waves and anticipate that you want to turn or take other action and thus make the vehicle respond more quickly.
That project from Nissan (NSANY) is the kind of gee-whiz technology going on display at this year's Consumer Electronics Show opening next week  in Las Vegas. But less fanciful technology — much of it aimed at moving toward self-driving vehicles — will dominate the displays.
The shift to autonomous vehicles is seen as the path to future profits in transportation. Tech companies like Intel's (INTC) Mobileye, Google (GOOG) affiliate Waymo, General Motors (GM) and many more are all pushing to gain competitive advantage in the anticipated growth of self-driving cars, noted research firm IHS  Markit.
And plenty of concept vehicles showing possible variations in self-driving will be on display in Las Vegas. For instance, Swiss firm Rinspeed is showing the Snap concept (pictured left) that separates the vehicle's chassis from the cabin. A passenger-hauling cabin could be removed and replaced instead with a workman's supply hauler or something for other uses.
Most forecasts of the automotive future also involve more and more electric vehicles. German auto parts company Continental is showing at CES an advanced vehicle-charging idea that would sharply limit the time an owner spent recharging an electric car.
Remarkably in recent years, technology of the kind on display at CES has moved quickly into cars that are for sale. Some of these systems — like automatic braking — are crucial steps on the way to fully autonomous vehicles.
Kelley Blue Book has come up with a list of available technologies that shoppers should look for on 2018 models. Here is a closer look at a few of those options:
Adaptive Cruise Control:
This system uses radar or laser sensors to match the speed of your car with the one ahead of it and keep a safe distance back, allowing drivers not to always be hitting the gas or brakes in highway traffic. Among several current models that offer adaptive cruise control are Honda Accord, Audi Q5 and Acura TLX.
Automatic Emergency Breaking:
If the car in front of you stops suddenly and the system senses an impending crash, it first sounds a warning then slams on the brakes to avoid the accident or at least make it less severe. Nissan and Toyota (TM) have put automatic braking in many of their most popular models. Volvo and Mercedes-Benz also have automatic braking in a wide selection of vehicles.
Apple Car Care / Android Auto:
When you plug in your smartphone, the car's display screen shows you the home screen from the phone. You can use voice commands or knobs in the car to get directions, send and receive messages or listen to music while keeping your focus on the road. Most major manufacturers offer one or both Apple (AAPL) and Android systems but sometimes only in more expensive models. Examples include Buick Encore, Chrysler Pacifica and Dodge Durango.
Connected Mobile Apps
The best of these apps let you use your smartphone to remotely lock or unlock the car, check the gas level and remotely start the car to warm up on a cold day. However, these functions may depend on a subscription service such as General Motors' OnStar system ($19.99 a month), which also automatically calls first responders if you're involved in a crash. Volkswagen has a similar system called Car-Net ($17.99 a month).
Source: CBS News